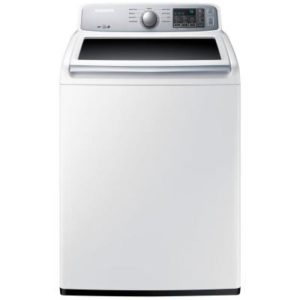 Hi all, lately i have been taking a few calls about these washers either failing to drain or causing a flood, there is a defect on some of the earlier machines, i am not exactly sure how Samsung are rectifying the situation but i decided to post up here some info.
http://www.samsung.com/au/washingmachinerecall/
You may have heard that there's a safety issue with some of our Top Loader washing machines made between 2010 – 2013. This is a national recall that applies to all states and territories.
We first issued the recall in 2013 but there are still thousands of affected machines that are yet to be serviced or otherwise retrieved. If you have an affected machine you are entitled to elect either a free service, refund or replacement. 1-800-726-7864
My advice is to contact Samsung asap with the model and serial number of the affected unit, unfortunately we are unable to service or repair any affected machines.
I believe the re-call refers to a wiring issue, there is also another potentially expensive fault in that the electric drain pump motor was directly attached to the tub, it seems the brackets holding the drain pump motor to the tub fail and the drain pump assembly comes adrift, this can cause a significant amount of water to leak and that has the potential for damage to floors and drywall.
An updated pump kit was made available, the kit includes a new pump and harness, apparently the pump now attaches to the chassis and not the tub.
Many owners have been calling me with the DC error which usually relates to the rod springs —-DC97-16350C—-being worn, this is around a $150.00 fix but only worth doing if the rest of the machine has been fixed under recall..
Samsung top load washer re-call 1-800-726-7864